On February 23rd and 24th, 2022, FAITH engaged in co-organizing the 4th Meeting of Minds (MoM4) as part of its activities in the Cancer Survivorship – AI for well-being (CS_AIW) Cluster.
From the beginning, the Meeting of Minds 4 was a patient-orientated event. Indeed, it was developed around a single key question: "How can new technologies better support patients?". In response, more than 100 stakeholders participated over the two days of the event; the audience included patients, patient associations and advocates, healthcare providers, IT specialists, researchers, and policy makers. Moderated by Tom Flynn (TFC Research and Innovation Limited), these two days really engaged all the participants. In fact, every project in the Cluster individually presented their activities, demonstrated work in progress technologies, and received audience feedback. Collectively, the Cluster projects listened and learned from stakeholders' insights. The event helped to strengthen their understanding for a better delivery of what is needed by the patients, clinical professionals, and also their care-givers.
Meeting of Minds 4 Guest speakers
During the Meeting of Minds 4, guest speakers representing healthcare professionals, patient advocacy and policy-making bodies joined the conversation around cancer survivorship. By sharing insights on cancer survivorship and technology's increasing role in healthcare, they pointed out crucial aspects of cancer and its impact on patients. Furthermore, they also shared their view on how technology as well as upcoming and promising AI applications can better support post-treatment cancer patients. Notable guest speakers included:
Barbara Kerstiens: Head of Unit "Combatting Diseases" – DG Research and Innovation, European Commission.
Dr. Kerstiens presented the ambitious "EU Mission on Cancer", which confirmed that FAITH and the Cluster itself are working in the right direction; putting patients at the centre of innovation, focusing on Quality of Life. Also, the other 3 objectives are: understanding cancer, prevention and early detection, diagnosis and treatment.
Kathi Apostolidis: Former President – European Cancer Patient Coalition, President – Hellenic Cancer Federation.
Dr. Apostolidis addressed the audience on how to engage with patients and associations while preparing, executing and evaluating a clinical trial. In her presentation, Dr. Apostolidis explained how best to deliver the research value to the patients.
Gerd Murphy, Psycho-Oncological Nurse Practitioner – HSE Ireland.
Dr. Murphy presented the implications of cancer diagnosis from a psychosocial point of view. She shared improvements on how AI can support key patient areas, such as the importance of awareness and normalization of the distress experience, as well as early detection of poor mental health.
Meeting of Minds 4 Roundtable Session
On Day 1, Panos Papachristou (Academic Primary Health Care Centre of Stockholm) moderated a unique roundtable session. During the hour-long session, Panos engaged cancer patients and survivors into discussing patient engagement in clinical trials. Moreover, roundtable panelists also focused on patient engagement in designing post-cancer treatment solutions. In particular, the roundtable collected insight and opinions on new technologies' deployment in the post treatment stage. Proactive participation of patients in research and innovation was well discussed; panelists agreed that patient engagement throughout the whole process is necessary, and their involvement should not just be at requirements and testing stages. Indeed, all participants confirmed the importance of keeping patients/users at the center of the ecosystems that the Cluster members are building. This practice, in fact, ensures that the designs will effectively meet patients' needs.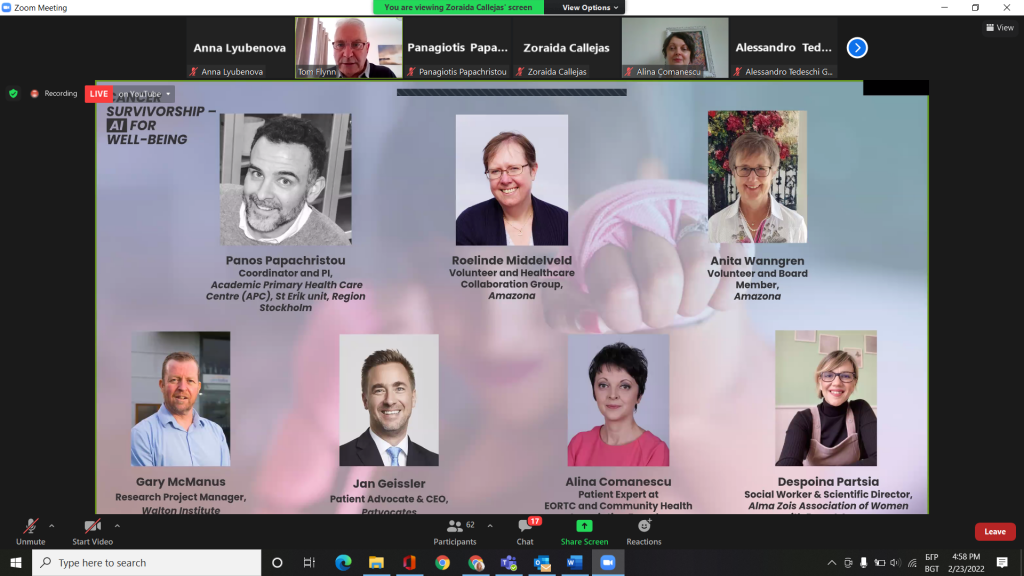 What's next for the Cluster
To conclude Meeting of Minds 4, both Antonis Billis (Aristotle University of Thessaloniki) and Tom Flynn (TFC Research and Innovation Limited) brought to the audience's attention details on the Cluster's future steps. Specifically, these included the creation of a Better Practice Guide document, based on common data sets and repositories regarding cancer and quality of life, in line with the European Commission Cancer Mission directives. Moreover, the Cluster will plan a dedicated workshop demonstrating the ongoing solutions developed within the Cluster for clinical practitioners. Finally, a white paper publication on the Cluster activities, amongst other planned actions, is on the way.
We look forward to working with our colleagues across the CS_AIW Cluster, for the common good of patients. Finally, we thank all who contributed to the planning, overseeing and participation at MoM4.
CS_AIW Cluster Members
The Cluster includes the following projects:
MENHIR – working on mental health monitoring through interactive conversations;
LIFECHAMPS – focused on integrated cancer care for the older cancer champions based on Big-Data and quality of life behaviour;
ONCORELIEF – working to improve the Quality of Life and developing mobile applications for cancer patients after treatment and for clinicians;
PERSIST – developing Big Data platform, mHealth application and multimodal sensing network to improve the Quality of Life of cancer survivors;
QUALITOP – monitoring multidimensional aspects of Quality of Life after cancer Immunotherapy and developing an open smart digital platform for prevention and patient management;
CLARIFY – developing actionable knowledge for improving cancer long survivors' Quality of Life;
ASCAPE – working on an AI-powered framework, clinical testing and patient engagement;
REBECCA – developing a patient mobile application and a web browser plugin to improve intervention of care choices and analyze data to better understand how treatment affects Quality of Life;
CAPABLE – aiming to develop a support system for improving the Quality of Life of cancer home patients by combining technologies with socio-psychological models and theories *(NEW Member – Announced at MoM4);
FAITH – addressing post-treatment consequences of anxiety and depression through Artificial Intelligence based technologies.