In today's digital age, various applications based on Artificial Intelligence (AI) are emerging to facilitate the collection and integration of information from different areas and different sources. AI-based models are trained with this information, and allow to transform it into new knowledge. This new knowledge then translates, as last objective, in decision-making process.
We have performed a bibliographic search about the number of publications with the keywords cancer and artificial intelligence. Unsurprisingly, results show an exponential growth during last years; more than 32,213 results since 2009 and, among these, about 6600 publications only in 2022 on the National Library of Medicine platform. This clearly reflects an explosion of cancer research at different levels.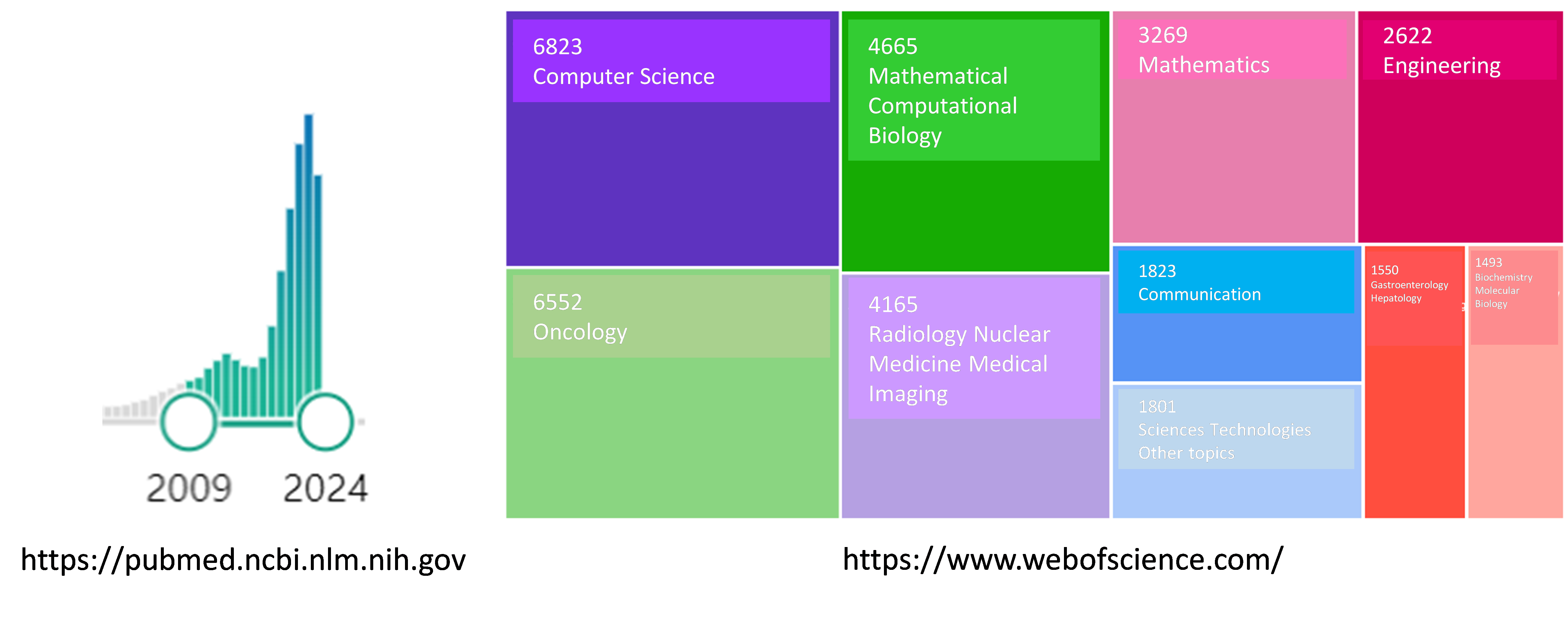 The use of AI for different applications in the field of oncology has great potential, not only for the diagnostic setting. In fact, it can be of support also to identify treatments, monitor patients, and even providing training and educational tools.
The data generated through Big Data techniques and its integration together with clinical data, patient habits, analytical results, images, etc., has become a great value. Although the lack of structured health data and/or standardisation in collection and storing methods still remain as one of the biggest challenges in developing cancer-related AI models. There is great interest in trying to systematise this data collection to be able to exploit these tools. This is the reason why the collaboration among the different stakeholders is crucial. Potentially, it could optimise the objective definition, identify the needs to be covered, who will benefit from it and in which manner.
Despite its limitations, AI has found a stable and important role in breast cancer units, bringing about significant improvements in patient care and treatment.
AI in Cancer Care – supportive applications
There are recent studies that start from the premise that an accurate risk assessment is essential for the success of population screening programs in breast cancer. The development of models with high sensitivity and specificity would enable programs to target the screening efforts to high-risk populations, while minimising overtreatment for the rest. An example is the work recently published by R. Barzilay about a new mammography-based risk model which could offer broad and equitable improvements in care provided by the clinicians (Yala A et al. J Clin Oncol. 2022).
On the other hand, portable and wearable devices along with patient-centric AI apps in healthcare are gaining momentum, offering patients precise and objective ways to assess their health status, track daily habits,  monitor disease progression and  their quality of life.
An example is the e-OncoSalud® app, developed by the Hospital General Universitario Gregorio Marañón researchers from the Pharmacy Service (Spain). In fact, the e-OncoSalud® app has the aim of covering the needs of the onco-hematological patients receiving oral antineoplastic agents (OAA) (Collado-Borrell R et al. J Oncol Pharm Pract. 2020). The e-OncoSalud® enables close, real-time monitoring of patients treated with OAA. The application contains not only information about the patient's treatment; it features their agenda with daily intakes and medical appointments, and a record of their progress. In turn, this allows them to contact the hospital pharmacist directly from their home, if necessary. The app facilitates early detection of adverse events, thus enabling patients themselves to improve the safety of their treatment.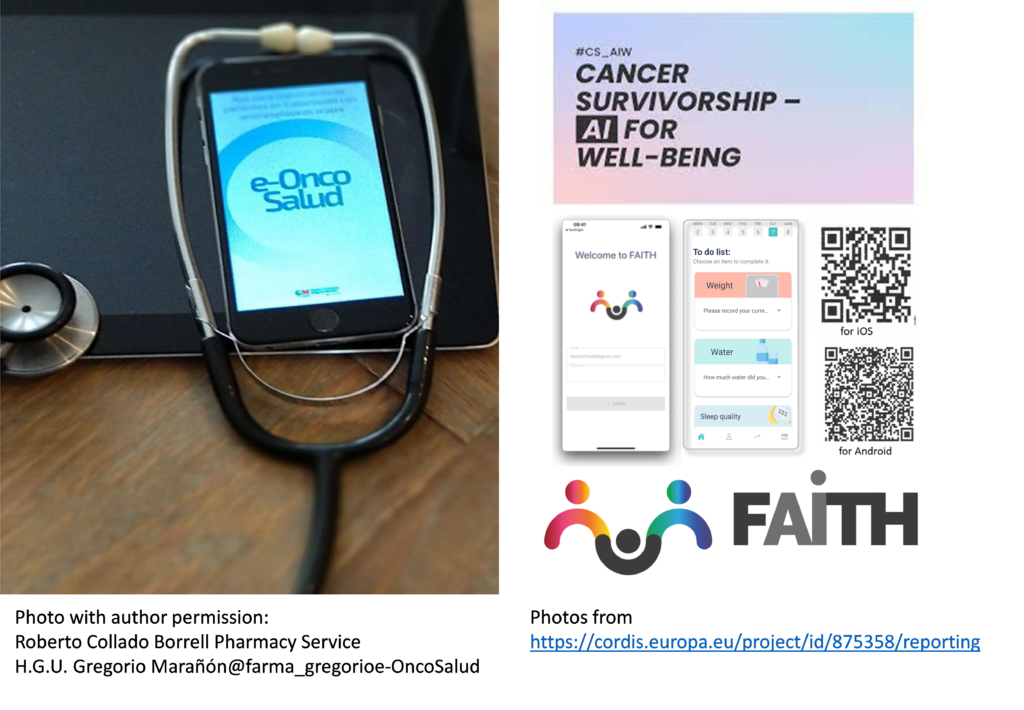 FAITH AI for mental health
On the FAITH side, the App collects structured information related to physical activity, as well as nutritional, sleep, and voice. These constitute lifestyle markers in order to identify patterns of depression in breast and lung cancer survivors. This application, also deploying AI, has been developed by FAITH, of which the HGUGM Medical Oncology Service is partner, and has supported by an EU-H2020 grant (Lemos R et al. BMC Psychiatry. 2022).
The FAITH App is now being tested on cancer survivors from HGUGM (Madrid, Spain) and Champalimaud Foundation (Lisbon, Portugal) to assure the quality of data collection and to train the model itself. This App will be of support for both the clinician and the cancer survivors; It will help detecting those deviations that may be warning signs and may require early medical attention.
AI has made its mark in our lives, especially in healthcare, and within this area, in oncology, is holding great promises. The next step is to make AI-based tools easily accessible and understandable for oncologists and patients. We're on the path to achieving just that!
---
Authors: María del Monte Millán*, Sara López-Tarruella*, Tatiana Massarrah, Miguel Martín of the Hospital Gregorio Marañón (SERMAS).
---
References
Yala A, Mikhael PG, Strand F, et al.; Multi-Institutional Validation of a Mammography-Based Breast Cancer Risk Model. J Clin Oncol. 2022;40(16):1732-1740. doi:10.1200/JCO.21.01337
Collado-Borrell R, Escudero-Vilaplana V, Ribed A, et al.; Design of the functional requirements of a smartphone app for patients receiving oral antineoplastic agents: The e-OncoSalud® app; J Oncol Pharm Pract. 2020;26(1):105-115. doi:10.1177/1078155219840419
Lemos R, Areias-Marques S, Ferreira P, et al.; A prospective observational study for a Federated Artificial Intelligence solution for moniToring mental Health status after cancer treatment (FAITH): study protocol. BMC Psychiatry. 2022;22(1):817. Published 2022 Dec 21. doi:10.1186/s12888-022-04446-5